Invisalign & Braces
Braces and Invisalign can be used as a corrective procedure to correct malocclusion that involves teeth that are crowded or crooked. Dr. Blattner and Dr. Heberer are general dentists who have used the newest and most advanced techniques to straighten smiles for over 75 years. Trust us to guide you toward a much-improved smile!
Invisalign & Braces
With Invisalign or braces, SmilesRForever Dentistry can help you create your best smile. No two smiles are alike, so we're happy to offer you treatment options to fit your needs and lifestyle.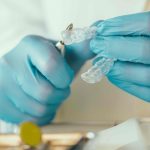 Invisalign Questions
When considering Invisalign treatment for a crooked smile, patients often have many questions. Please visit our Invisalign FAQ page for answers to some commonly asked questions.